September 4, 2022 - 10:00 am
Spanish Springs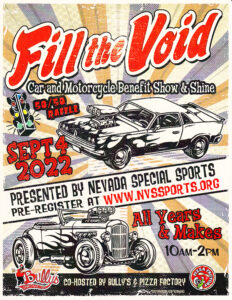 $35 Entry Fee Includes Event T-Shirt and Goodie Bag! (First 120 registrants)
Our 7th Annual Fill the Void benefit Show & Shine will be at the Spanish Springs Pizza Factory / Bully's parking lot just like last year! Pizza Factory and Bully's will host again this year, opening up a large portion of their parking spaces. However; we will be limiting registration to 150 cars and/or trucks and 50 bikes, so get your registration done early! Open to ALL Years, Makes and Models. 3 Custom trophies made by our Late President, Joel Edwards, will be given out again this year to both car, truck and bike entrants, selected by the individual trophy sponsors. We will also have other prizes and awards available for participants as well. We hope to see you there!
Online Registration is now CLOSED.
Walk-up Registration will be available at the show until we hit our maximum capacity of 150 entrants.
Registration and Parking will still be available on a first come, first served basis the morning of the show as space permits. Please arrive early to secure your parking spots! We will see you there!
 Printed Registration Forms are available at Pizza Factory in Spanish Springs, Bully's Spanish Springs, A&W, Summit Racing, and a few other outlets. If you would like flyers or a poster at your business, please contact:
Harley @775.335.6264
Kathy (Doll) @775.224.0007